The late Chris Bratt was an environmentalist, carpenter, musician and community advocate. He was not only a champion of the environment and of the Applegate River watershed, but also a loving and compassionate friend to many in the area. For over 40 years, Chris was an advocate for our community, but he was best known as an advocate for the water, the trees and the wildlife of our region. Chris was actively engaged in the community and in defense of our wild landscapes until the very end. Through his example and inspiration, many Applegate Valley residents have become engaged in social and environmental issues, and for his efforts the Applegate Valley is forever grateful.
Chris was born in San Francisco, California in December of 1930. He was raised in a working class family involved in social justice and labor organizing in the Bay Area. According to Chris his "younger days were raised in a pretty dynamic household; a lot of meetings, a lot of music, a lot of art..It was a wonderful background, but we were as poor as church mice."
Chris remembered going to large labor marches in San Francisco and perhaps his first volunteer activism consisted of delivering left-wing newspapers as a boy, but continued working on social justice and labor issues throughout his life. Only after moving to the Applegate Valley did he became an active environmentalist.
His father George Bratt, was an actor and writer who sometimes wrote for "The People's World," a socialist newspaper based out of San Francisco. The paper, founded in 1938, was funded by its 20,000 subscribers throughout the West Coast and cost 3 cents per copy. His father also ran the Unemployed Union, advocating for unemployed workers during the Great Depression of the 1930s.
His mother, Wiltrud or "Beb," was also very progressive for her time. According to Chris, she refused to declare "blind allegiance" during the Red Scare of the 1950s and sign a "loyalty oath" to the government. She subsequently lost her long-held job as senior draftsperson for the City of San Francisco.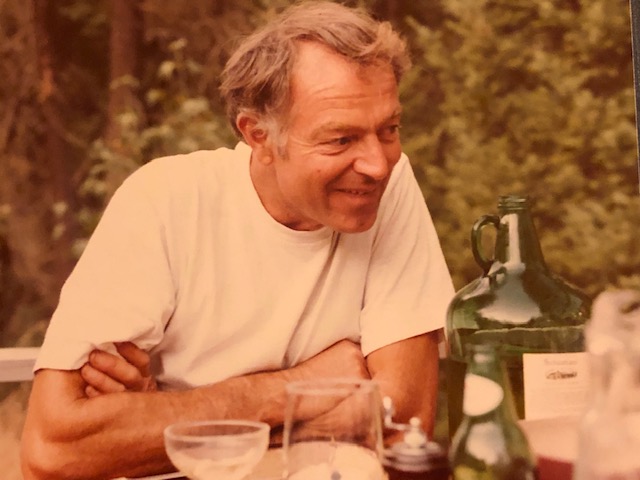 Chris worked in the boat yards of San Francisco during World War II and later joined the carpenters union, where he worked building homes in suburbs of southern San Francisco. He also played guitar and sang music at picket lines, protests, potlucks and on stage.
Chris moved to Marin County with his first wife, Nancy and their children in the early 1950s and ran Little Gem Construction ("A jewel of a job") with two friends and business partners.
In the early 1960s, Chris sang in a semi-professional folk group called Albion Trio, who performed around the Bay Area. He also went to Mississippi in the early 1960s with the American Friends Service Committee to help rebuild African American churches burned by the KKK.
In the late 1960s Chris and Little Gem Construction built a medical clinic in Delano, California for the United Farm Workers. Little Gem Construction continued working around the Bay Area doing remodels for fancy homes and the founders including Chris, became unsatisfied and dissolved their partnership to pursue other interests.
In the early 1970s, Chris taught Industrial Arts at Tomales High School for 4 years, leaving somewhat disturbed because the school "was a place for kids, but the adults were running it on their program." Chris left teaching and went back into construction.
In 1976, Chris moved to the Applegate Valley with his second wife, Joan Peterson and their five children. Inspired by the back-to-the land movement, they moved onto a 160-acre property on Thompson Creek and began working to restore the old homestead, making repairs and building additions to house the family and Chris's elderly parents.
Shortly after moving to the valley, Chris began working on issues involving aerial herbicide spraying on public land. At the time, federal land managers were clearcutting our old-growth forests and spraying herbicides from helicopters to kill shrubs and hardwoods competing with planted trees. The practice had very real ecological impacts and was contaminating residential water supplies leading to birth defects and other health problems for local residents.
According to Chris, after hearing about the BLM's spraying plans his mother looked at him and said sternly "Christopher, I think you'd better do something about this." Along with other residents from the Applegate Valley, Chris started Applegate Citizens Opposed to Toxic Sprays (ACOTS). Chris also joined the Board of Directors for the more regional organization called Citizens Against Toxic Sprays (CATS) who worked across the west on herbicide spraying issues. Together a rag-tag coalition of regional organizations ultimately succeeded in banning aerial herbicide spraying on federal land, changing timber management across the West.
Chris then joined other residents to start Thompson Residents for Ecological Education (TREE) in the early 1980s. TREE began fighting federal timber sales in the Applegate Valley through legal and administrative action and stopped numerous BLM and Forest Service timber sales. Chris also joined the regional environmental organization Headwaters and became a force for conservation across the region. He worked on policy issues, lawsuits, timber sales, off-road vehicle issues and the utilization of small diameter trees for timber. Over the years, Chris also served on the Board of Directors for the Applegate Partnership, the Rogue Institute, the Geos Institute, the Applegate Neighborhood Network (ANN) and the Applegater Newsmagazine.
For over 40 years, Chris was often at the heart of our community and at the center of many local controversies.  Chris was the Board President for ANN, one of our most active advocates and an elder with significant experience organizing for the environment. Chris played a vital role in developing and maintaining our organization. He was also active in our campaigns, using every available opportunity to advance conservation goals in the Applegate Valley. ANN is forever grateful for the role he played in promoting and supporting conservation in our beautiful watershed. Chris was adamant that the Applegate Valley needed its own, localized environmental organization, representing the people and the land that make the Applegate Watershed so special. ANN will work to fulfill Chris' vision and build on his lifetime of work.
Chris will be remembered for his contribution to the environment, but he will also be remembered for his laugh, his smile, his music, his undying dedication to the community and his loving friendship. Chris was a beacon of hope for his community and ANN will work hard to keep his legacy alive. Our goal is to protect, defend, and restore our public lands and the integrity of our environment. We hope to do so in the spirit of Chris Bratt, with the same courage, tenacity and perseverance that he embodied. We thank Chris for the path he traveled, the life he lived and the many years of inspiration he provided for us all. We love you Chris, we now act on your behalf, in your memory, and on behalf of the wild.
Next time you look across the mountains of the Applegate River, its forested watersheds, its sunlit oak woodlands, and its scrubby slopes of chaparral, think of Chris. For many years he was a voice for this landscape and if you listen closely you will hear him in the wind as it blows through the trees, encouraging you to get out and defend the wildlands that surround you.
The information and history in this memorial comes from Chris' wife, Joan Peterson, his good friend Larry Francis, and from an oral history interview conducted with Chris Bratt in March of 2019 by ANN Program Director, Luke Ruediger. The old photographs were provided by Larry Francis.