Applegate Siskiyou Alliance Vision
Applegate Siskiyou Alliance works to sustain the integrity of the environment and human communities in the Applegate Valley and surrounding areas through education, collaboration, community activism, stewardship and science. We promote wildland conservation, ecological restoration, a sustainable rural economy, and community engagement in land management planning.
Who are we?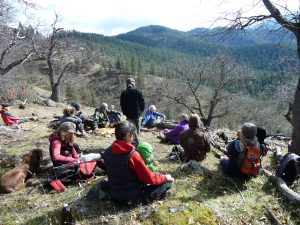 Applegate Siskiyou Alliance is a 501c3 charitable organization comprised of Applegate watershed residents, businesses and friends of the Applegate Valley. We are people who care about the Applegate Valley and the surrounding public lands. We are neighbors and friends that share a passion for the natural environment and biodiversity of the Applegate Valley. We welcome anyone who loves the wild places and intact habitats of the Applegate Valley and Siskiyou Crest region.
What do we do?
Applegate Siskiyou Alliance engages in issues that affect the environment and community in the Applegate Valley. We are working to build a strong grassroots movement in support of conservation in the Applegate watershed and the surrounding Siskiyou Mountains. In particular, we support biodiversity, habitat connectivity and wildland preservation in our region's public lands.
Public land borders every community in the Applegate Valley, it defines the character of our watershed and the character of our communities. In the Applegate Valley, the wilderness often comes right into your backyard, due to the close proximity of intact public wildlands. Our intent is to keep it that way!
The intersection of public wildlands and adjacent rural communities presents a unique set of opportunities that make collaboration with and constructive criticism of, public land management activities vitally important to our community. Our neighborhoods rely on the health of adjacent public land for clean water, scenic beauty, intact wildlands, sustainable forest products (e.g. mushrooms, firewood, wild-crafted medicinal herbs, building materials, etc), and recreation such as hiking, biking, equestrian use, swimming, paragliding, botanizing, birding, or a romantic evening watching the sunset from the Siskiyou Crest while sipping on Applegate Valley wine.
We believe that protecting the unique natural environment and world-class biodiversity of the Siskiyou Mountains, we will also maintain the high quality of life in the Applegate Valley. Sustaining this quality of life in the Applegate Valley is a community-wide effort. It is the legacy we can leave for the earth and for the next generation.
Applegate Siskiyou Alliance works with communities and agencies to:
Promote the conservation, restoration and preservation of federal land throughout the Applegate Watershed.
Maintain the region's incredible biodiversity, habitat connectivity, scenic beauty and ecological integrity.
Support grassroots community and environmental activism in the Applegate Valley.
Read about our programs.
To learn more, check out our frequently asked questions page.