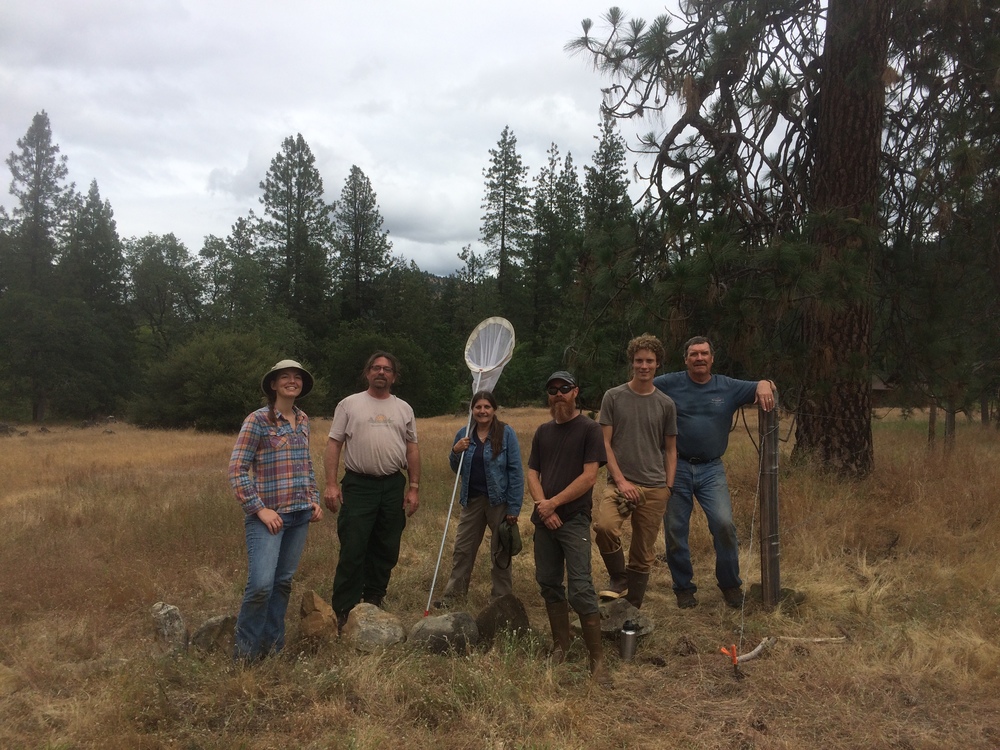 In between wonderful rain showers today, a group of community volunteers and Forest Service employees worked to protect a small population of heartleaf milkweed (Asclepias cordifolia). Organized by the Applegate Neighborhood Network (ANN) and the Rogue River-Siskiyou National Forest, the goal of the project was to enhance and improve monarch butterfly and pollinator habitat. We fixed fences and built a low rock barrier in an effort to reduce vehicle access into this rare Forest Service property on a riverside terrace along the Applegate River. The meadow-like habitat of the site supports spectacular spring displays of a beautiful wildflower called Douglas' grasswidow (Olsynium douglasii), and a small, but significant population of heartleaf milkweed.
The heartleaf milkweed is an uncommon native plant found from Lane County, Oregon to Kern County, California. In the Applegate Valley, it is found mostly in the arid foothills on dry slopes and rock outcrops. Milkweed is the host plant for the monarch butterfly and is absolutely necessary for the caterpillar (larval) stage of this iconic, but declining species.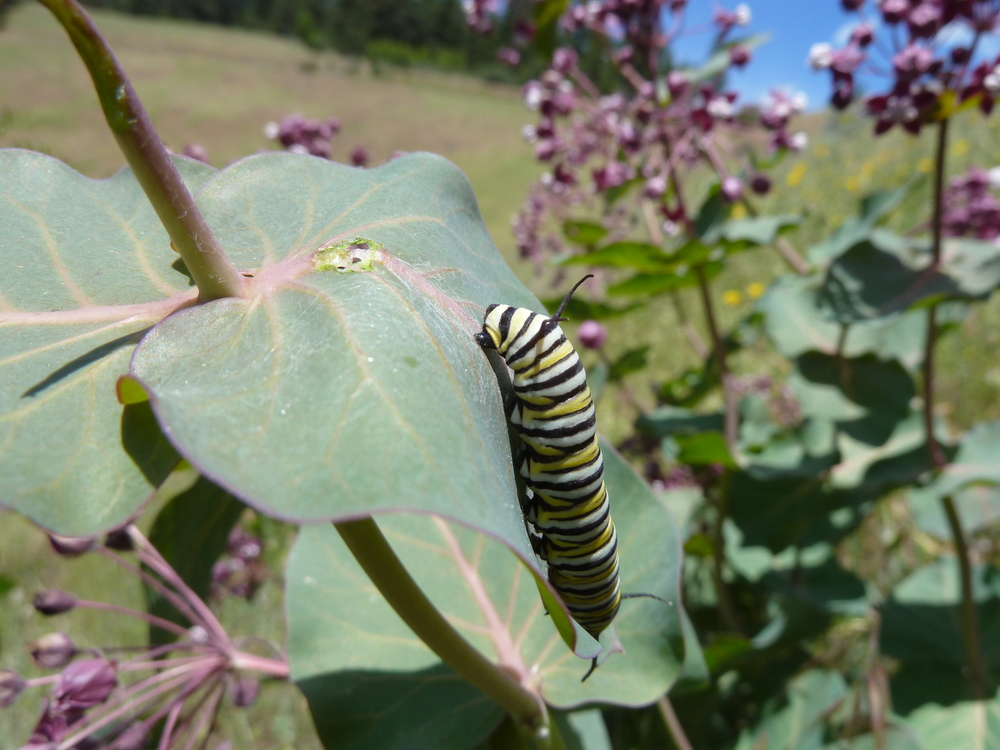 At a recent public meeting about land management in the Applegate Adaptive Management Area, ANN member, Suzie Savoie, highlighted numerous specific pollinator conservation opportunities in the Upper Applegate watershed. She proposed a host of potential restoration strategies that would promote more healthy native plant communities important to a variety of pollinator species. She proposed three pollinator conservation areas on the Applegate River, including this important valley-bottom heartleaf milkweed site.
Acting District Ranger and wildlife biologist, Dave Clayton, along with Forest Service botanist, Jessica Ceils, surveyed the sites proposed by Suzie at the recent public meeting and decided to proceed with restoration. Forest Service personnel are working on grants to secure funding for long-term restoration activities, including native plantings, seeding and noxious weed removal.
As an initial effort the Forest Service and ANN organized today's work party to restrict vehicle access to a small Forest Service parcel along the Applegate River. The site is used by kayakers, fisherman and other recreationalists. Many of these forest users drive across the clearing or park within the clearing, disturbing and compacting soils, damaging native plant habitat, spreading noxious weeds, and impacting important pollinator habitat. Today, the Forest Service and ANN, along with volunteers from Southern Oregon Monarch Advocates and the Applegate River Watershed Council, removed barbed-wire fencing and rebuilt fence with "smooth," non-barb fencing, and built a low rock barrier to restrict vehicle access and delineate a small parking area for motor vehicles. The clearing will also be signed as closed to motorized vehicles. These efforts will begin the restoration process, benefiting local pollinator populations and monarch butterfly habitat.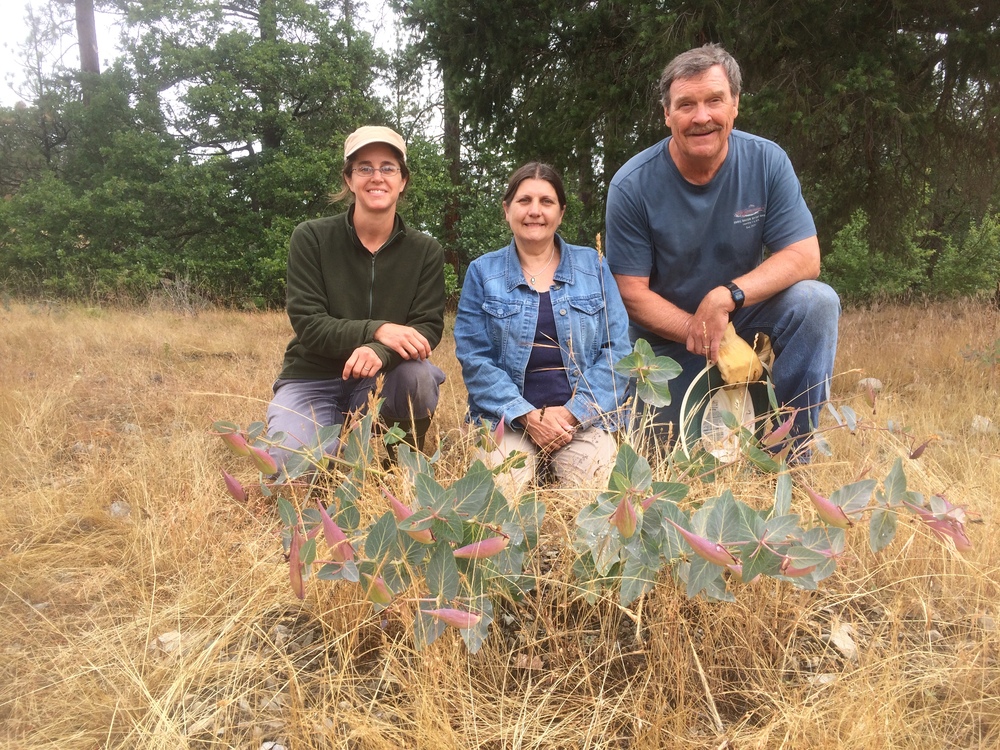 ANN will be working to support pollinator conservation projects in the Applegate Adaptive Management Area on both BLM and Forest Service land, and will work to educate local residents in sound pollinator conservation practices. To learn more about pollinator conservation in the Applegate Valley, consider attending Suzie's upcoming Green Drinks talk: July 20, 2016 from 7:00-9:00 PM at Wild Wines, a conservation supporter and local wine company creating unique wildcrafted wines. The event will be located at the Wild Wines Tasting Room at 4550 Little Applegate Road.